Christie Myers
Diet & Health Coach
Hello! Welcome to Healthful Saver! My name is Christie Myers, and I am a diet and health coach from Manchester, UK.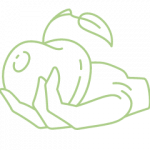 How I became a diet and health coach
At college, I studied Applied Science, Biology and Health & Social Care, and found I had an interest in nutrition and understanding how different foods or diets affected our body's function. I also liked caring for people, and it seemed to come naturally to me. So, I went to University of Hertfordshire and studied Dietetics for three years. I then started a work placement within the NHS in Manchester to get some experience. Now, I am a diet and health coach, who covers both how to manage a healthy diet, but also healthy ways to incorporate exercise into your daily routine.
So, what does a diet and health coach actually do?
Diet and health coaching's overarching focuses are food, people, health, and nutrition. This could include developing nutrition plans to help combat health conditions, teaching patients how to create a healthier diet, and meeting goals for weight loss or weight gain. We work on an individual basis with patients, as no two people have the same needs. 
We can also deal closely with eating disorders, which might surface as a result of specific eating habits. We will often highlight this to medical professionals like doctors and dietitians who will then conduct multi-disciplinary assessments, to gauge the next steps and help support our patient's needs.
Why I enjoy my job
Like most care-based jobs, it is a very rewarding job because you get to help so many people change their lives. Over the years, I've observed that people's physical appearances, particularly, can completely control their way of life – mainly because they struggle to gain weight or struggle to lose it. Being able to help people over that hurdle and make them feel they are taking control of their own life is a great feeling. 
Also, when people think of a balanced diet, they get disheartened thinking they won't be able to enjoy sweet treats and be stuck eating lettuce leaves for every meal. Not only is this not a sustainable way of eating, but you are not getting the nutrients you need and you will end up just snacking the hunger away! Instead, my job has taught me how you can have fun with food, experiment with different tasty recipes, and not have to restrict yourself.